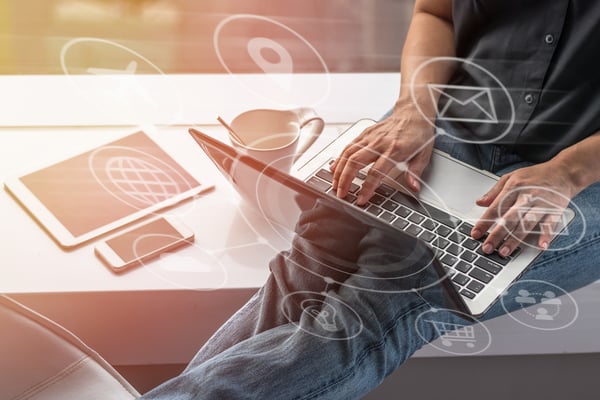 Marketing automation is a valuable asset to add to your overall marketing strategy. Using a marketing automation software platform, you are able to streamline your work processes, build strong customer leads, and become more efficient with your time spent on marketing overall. When you are working hard at nurturing leads and trying to increase revenue, it's important to consider the numerous benefits of marketing automation.
Optimizing Workflow With Marketing Automation
When you implement a marketing automation software platform, a wide range of workflow areas are better supported. Email marketing becomes easier as responses to potential customers are both automated and targeted. Lead generation is simplified, while landing page creation becomes more organized.
Marketing automation software allows you and your team to become better equipped to retain customers and handle cross-channel marketing campaigns. Score potential leads and nurture those that are most likely to lead to a paying customer. Focus on website personalization and keep track of your ROI, all with the use of a marketing automation software platform.
Why Should I Invest In a Marketing Automation Software Platform?
As you consider how to improve your marketing efforts, it's time to consider how you deal with potential new customers and how good your company is at tracking leads. Ask yourself:
Are you able to identify, track, and engage buyers online with ease?

Is it easy to prioritize your customers based on how they fit into certain parameters and their likelihood of making a purchase?

Do you filter potential leads based on level of engagement and interest in your business?

Is it possible to measure the revenue contribution of every marketing campaign you have set up?

Are you able to manage your marketing strategy without getting stressed out and overwhelmed?
If you answer no to any of the above questions, marketing automation can help bring your marketing strategy to the next level. With automation software in place, you are able to easily strategize what is working, nurture leads and keep everything organized on one platform.
Marketing Automation Doesn't Replace Your Team
Your overall marketing is only as good as the team you employ and the tools you provide to make solid marketing choices. Marketing automation doesn't push out spam, it gives your team the tools necessary to create dynamic content and engage with potential leads more efficiently. You will be better able to personalize interactions with customers and automate certain processes at the same time. Your team will be able to closely track analytics and know quickly when a strategy is producing a solid ROI or not. From email marketing to managing your social media channels, automation gives you the ability to stay on top of your marketing efforts, leaving your team more time to engage with customers and come up with innovative ways to attract customers.
Why It Is Time for Marketing Automation
If you are not using a marketing automation software platform, now is the time to get started. When you want to create accurate campaigns and empower your sales team with better leads, you need marketing automation to support these goals. Give your sales team the strong leads they need to achieve greater ROI, and understand that the best teams out there are already using this type of software platform.
Marketing automation allows your marketing team to pinpoint quality leads and pass on strong leads to the sales team. When you are looking to boost sales and grow your business, marketing automation is a wise investment. Today's business world is competitive, and you want to give your team the tools they need to succeed. Grow your business with the right software platform in place.