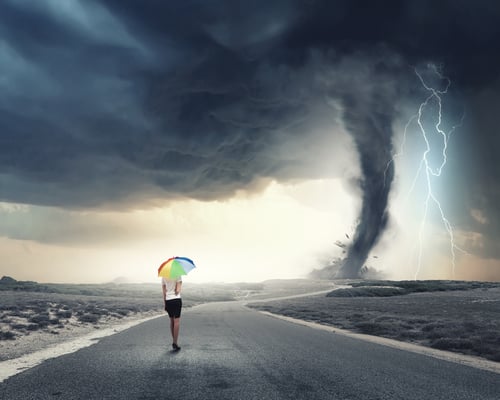 Currently, everyone - people and businesses alike - are trying to navigate through the coronavirus pandemic. Business owners are taking it day-by-day, listening and following guidelines set by public health experts while trying to keep their businesses afloat. Managing change is a specific leadership skill, one that can really only be sharpened by the fire of experience. A quote commonly attributed to Charles Darwin's Origin of Species says "it is not the most intellectual of the species that survives; it is not the strongest that survives; but the species that survives is the one that is able best to adapt and adjust to the changing environment in which it finds itself." Regardless of its actual source, these words ring true in business. Bottom line, change is inevitable, and navigating through it successfully to emerge stronger for it, is optional. Here are five tips that will help you win.

1. Be a Strong Leader
As a leader, your team will look to you to see how you are responding. If you freak out, so will they. This will only lead to everyone else stressing out and making this situation worse. It is important to remain calm, stay proactive, and empathize with employees at this time.

2. Plan, Don't Panic
In times like this, your approach to chaos may be more important than your actual actions. Before making any decisions, think things through. Ask yourself:


Am I responding in a thoroughly thought-through manner?

Am I staying calm and collected?

Am I listening to employees and my community?

After thinking it through, develop a solid plan to have in place to reassure employees.
3. Problem Solvers vs. Victims
It's hard to not feel like a victim right now, but you have to remember everyone else is also going through this. Instead of dwelling on the negatives, switch to an idea-focused mindset that is processing the best way to handle the situation at the moment, searching for solutions. As mentioned above, take it day-by-day and see what ways you can solve whatever problems may arise that day.
4. The Community is Watching
You may not realize it, but your communities are watching how you respond to the chaos. They are looking to businesses that have a value system in the right place and businesses partnering with the community to lend a helping hand. Do you want to be the business that stands by employees and its community? Or, do you want to be the business that is just focused solely on money? Either way, the community will see all of this unfold, it's on you to decide the right way to respond.
5. Be Grateful
Finally, the most important thing is to remain grateful, think about the things that are going well. Take this time to think about your customers.
Final Takeaways
The future will bring a new normal that no one can predict today. As a business, all you can do is prepare for the chaos and learn how to stay proactive and calm for whatever challenges are thrown at you that day. You are in business for the long run, so think long term. Commit to changing, yourself and your business, and become part of the solution. In the long run, you'll be better off for it.