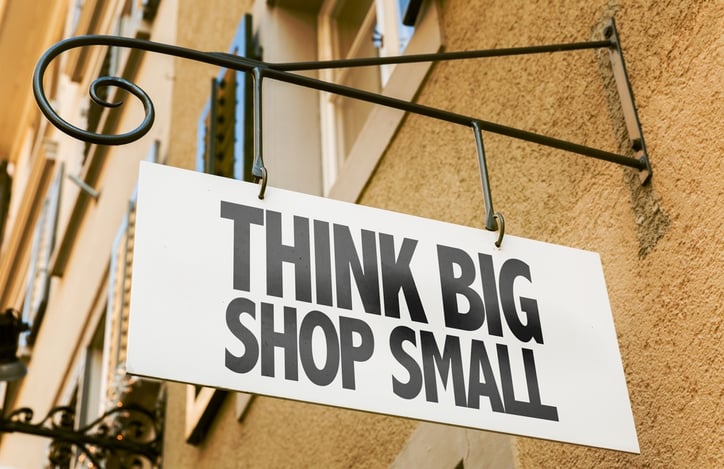 Bookended between Black Friday and Cyber Monday, it's safe to say that Small Business Saturday runs an extreme risk of being completely overshadowed. Is this shopping holiday truly effective for our country's valued small businesses?
With Small Business Saturday (SMB Saturday) being just over a week away, we're here to get to the bottom of this question and present your business with some tips to make the most out of this shopping holiday that was designed with you in mind!
Small Business Saturday Statistics
In order to determine whether or not your small business should be putting in a significant amount of effort on Saturday, November 30th, let's take a look at some statistics from last year.
According to American Express, the mastermind behind the creation of SMB Saturday, the year, 2016, saw a record high of consumers who were in support of this holiday. To be exact, we're talking 72% of all consumers. To take it a few steps further, the Small Business Saturday Consumer Insights Survey* released even more encouraging information from 2016:
Total reported spending reached an estimated $15.4 billion at independent retailers and restaurants on the day
An estimated 112 million consumers reported shopping at small businesses on SMB Saturday, a 13% increase from 2015
More than 480 organizations joined the Small Business Saturday Coalition, a 13% increase from 2015
32% of shoppers reported also attending a local community event on SMB Saturday
81% of shoppers reported encouraging friends or family to shop or dine at small, independently-owned retailers and restaurants on SMB Saturday
There were 135 million social media engagements in support of SMB Saturday, up 59% from 2015
Our Top Ten Small Business Saturday Tips
Each of the following tips has proven to be effective for small businesses who are looking to make an impact on one of the most opportune days of the year. It's important not to underestimate the simplicity of some of these tips: Remember, as modest as they may seem, consumers cannot get anywhere near as personalized of an experience at most big box stores.
Bundle Your Discounts.

Offer a free tire rotation with an oil change; Give away a $25 gift card with a $150 purchase
Lower Your Prices.

Reward SMB Saturday shoppers with exclusive, lowered prices on your entire inventory

or

restrict these discounted prices to only certain products/services
Give Free Estimates.

Offer a free HVAC inspection to identify unknown consumer needs, peaking interest and gaining new customers
Offer Complimentary Refreshments.

Transform your business into an inviting space that feels like home by offering free drinks or appetizers to any SMB Saturday shoppers
Host An Event.

Invite a local band or another prominent, local figure to come to your store to attract attention; Become a "ticket stop" for a local event (People must come to your location to retrieve their tickets)
Send Out Anticipatory Emails.

Send your database several emails leading up to SMB Saturday, reminding them of the upcoming offers they just. can't. miss.
Join Forces With Other Businesses.

Tell customers to show their receipt from the business next door to receive 10% off any item in your store. Remember, the right partnership can make your small business feel much bigger
Consider Switching Up The Date.

If you're leery of Black Friday and/or Cyber Monday stealing your business' thunder, don't be afraid to celebrate SMB Saturday the weekend before (or after) in order to better stand out
Boost Your Online Presence.

Implement a social media strategy that will attract attention leading up to SMB Saturday; Consider offering exclusive, additional discounts or perks for your social audience
Convert! Most importantly, have a plan in place to convert any and all consumers interacting with your business on SMB Saturday. How will you follow up with the people who take you up on a free estimate? How will you incorporate this same, feel-good spirit into your customer service habits the rest of the year?
Make the most out of SMB Saturday by determining to implement some of the above tips. But don't delay! This day full of opportunity only comes once a year!
*http://about.americanexpress.com/news/pr/2016/2016-small-business-saturday-results.aspx