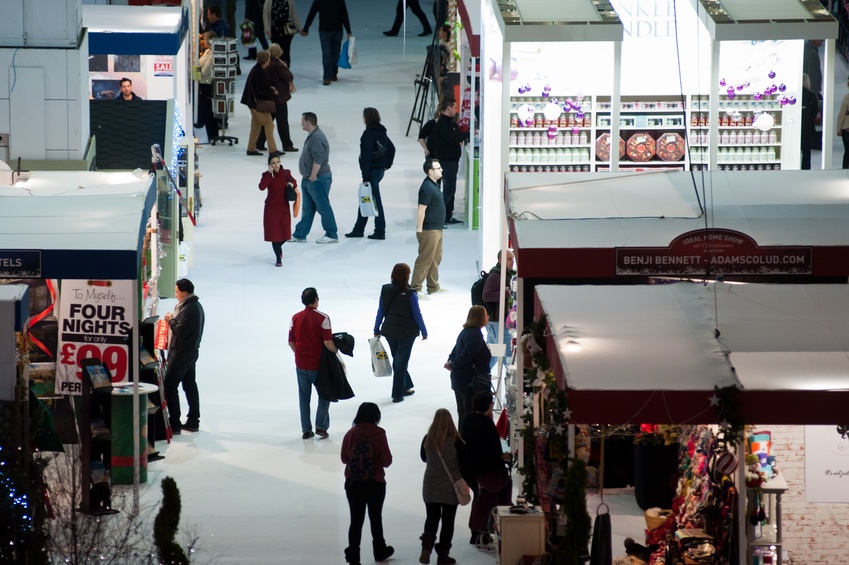 Event marketing can do a lot for your business — in fact, we've already written about why. We've also touched on some of the common mistakes that can undermine your effectiveness at an event. In today's post, however, we're going to talk about some of the things you can do for event sponsorship booth activation, and we'll offer a few actionable ideas based around your business' industry.

Remember to Think Outside the Box
When you sponsor events, they're not always going to revolve tightly around the type of industry your business represents. However, that shouldn't diminish your sponsorship activation. For example, automotive insurer Esurance used branded, individualized NFC bracelets at the Food Network South Beach Wine & Food Festival in 2014; attendees had to actively participate in that they had to choose to tap their bracelet on branded tablets at each chef station in order to track their samples and ratings. That's day long exposure that enhances the attendee experience, even though it has nothing to do with financial services or automotives.
While you do need to engage attendees more directly in the context of your industry for complete event sponsorship booth activation, never forget that by being incredibly useful, you do a lot to endear your brand to attendees. Consider options like branded cell phone charging stations, which you could even host around your event site to draw attendees back to your brand repeatedly. The service will make you memorable, and you'll stand out for caring about your attendees needs.


Event Marketing Ideas for Healthcare
Take a look at the services your business or practice offers regularly and consider which, if any, you could offer a simple, abbreviated version of at the event. This can be as straightforward as a free checkup from a family physician or consultation from a plastic surgeon, or as involved as a chiropractor or osteopath providing an adjustment or an acupuncturist offering a session. The purpose here is to give attendees a taste of your services without the sales-y feel of a demo. Remember this can also be a great way to collect information to follow up on later — the free service is predicated on the attendee signing up for your brand newsletter. Especially if you're offering consultations, having a way to easily set up appointments on-site can also help bring attendees back to your office as well.
Alternately, you can hold some kind of an educational session. For example, a nutritionist or dietitian could have a video running at the event site educating attendees on important aspects about eating well or how the body uses the nutrients it needs. You could also hold talks at various times of the day to draw attendees to your event space, or offer interactive stations to keep them engaged.

Event Marketing Ideas for Law Firms
is another industry where offering free consultations and having a way to book appointments for future discussions or to provide further information is a great move. If your firm covers several areas of law or different kinds of cases, it's worth having a representative available for each, at least through different times of the day. Similarly, offering educational sessions can be particularly useful. Consider bringing in outside experts to further position your firm as experts. For example, if your firm deals with IP protection, bring in a CEO of a software company, especially if it's local. Or a real estate firm could bring in a prominent real estate agent or a real estate writer to discuss pertinent topics.
Depending on the event, it might also be appropriate to bring in displays for more experiential marketing, but you need to be sure that these are always appropriate for the event. For example, a firm that handles certain kinds of automotive cases could bring in a crashed car — a particularly visual lesson if your firm handles DUI cases — however, this sort of shock value isn't going to suit every event.


Event Marketing Ideas for Financial Services
The emphasis for financial companies is often on education. Creating the sort of event space that promises an engaging talk to listen to, perhaps with a podium or a small stage, will be a good way to draw crowds in to find out when your business will be hosting these talks throughout the day.
Each talk can focus on a different aspect of financial advice within the purview of your business, too. For instance, if you offer debt assistance, you could hold discussions on how to better manage finances, take a broad look at options for getting out of debt, and focusing on areas of concern people might have, like whether bankruptcy is a good option.
Depending on the type of financial services you offer, you can really think outside the box, too. To be sure, our next example is possible because the sponsor behind it is a huge company, but there's a valuable lesson to be taken from it no matter the size of your business. One year at SXSW, MasterCard partnered with Mashable to offer a Priceless Surprises experience to startup owners who were also MasterCard customers. It operated a sort of vending machine tied to their social media accounts, but instead of offering sweet and salty snacks, the vending machine dropped crucial opportunities, technology and funds in blind boxes. Some of the Priceless Surprise winners received free hard drives, while others earned prepaid cards. Still others won introductory meetings or calls with senior level technology executives. The brands turned this event marketing into a truly transformative experience for attendees.


Event Marketing Ideas for Automotive Brands
Automotive brands perhaps have the easiest time coming up with event sponsorship booth activation concepts. In part, this is because they have a very physical product, and that means a dealership can have top car models from their lot on display, or a restoration shop can have a before-and-after comparison of vintage cars (especially if it's possible for attendees to take photos with them). Similarly, repair shops can hold demonstrations that either exemplify their services or help attendees learn how to do things (say, removing the dent from a car hood) themselves. There's some great opportunities to have hands-on engagement.
However, don't forget there's technology you can take advantage of as well, especially for when you aren't running a demo or if you can't bring vehicles in to display. Interactive video walls, for example, can be used to display all sorts of things, as well as playing videos selected by attendees (including how-to videos), trivia about classic cars, or letting them build their dream car. Taking advantage of mobile technology can be a big way to capture attention and differentiate yourself at an event.
The options we've provided should just be a launching point for developing fresh ideas for event sponsorship booth activation that best suits your business, the event you're sponsoring, and the type of attendees you want to engage. Remember, event marketing is all about generating positive word-of-mouth and giving attendees a reason to care about your event space or activities. Be sure to set your development strategies in motion with enough time to market them in the lead time to the event, and you're sure to see positive impacts on your brand perception and bottom line.