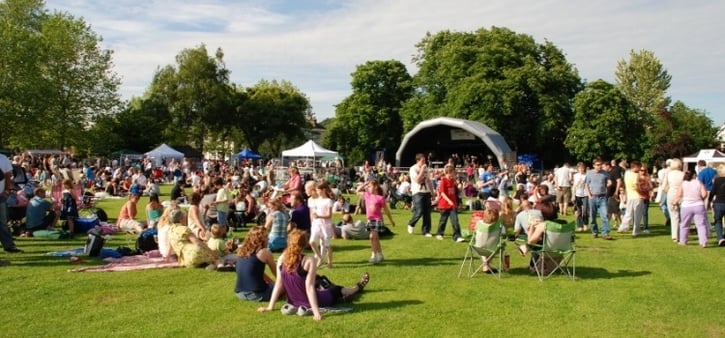 Like many businesses, you're probably looking for a quick, easy way to enable your marketing strategy to reach out to customers in a way that engages them, builds a relationship, stimulates word-of-mouth, and increases brand loyalty. In this post we're going to discuss why events should be part of your marketing and why it's important to develop an event marketing strategy.
Which Events
Regardless of the industry you're in, there are numerous event types that your brand can participate in. Whether it's an event you're hosting or sponsoring, or an event that you're participating in, if it makes sense for your business and your audience, it can be beneficial in the end.
Radio Station Partnered Events
This is a great way to work two kinds of marketing into one outreach. For instance, if you're running your own event, Zimmer Radio & Marketing Group can help coordinate radio stations that will work your event, either as an emcee or by doing a live broadcast from the event. Alternately, we can help you choose an event being hosted by any of our radio stations, including Tiger Tailgate (entry requires visiting sponsor locations) and our upcoming radiothon for Central MO Honor Flight. Visit Our Stations on our homepage for more information.
Community Events
You'll need to take a look at the community calendars to get a better idea about what's available when, but this can be an excellent way to put in face time with the citizens in your area. This can include cause-oriented events (e.g., a local walks for cancer awareness), family fun (e.g., state or county fairs), or themed fairs (e.g., craft fairs, wine festivals), and so much more.
Trade Shows
You should be aware of some of the trade shows that are most relevant to your business, especially if they're taking place in the Mid-Missouri area. Regardless of the industry associated with the trade show itself, many events like this accept sponsorship or attendance for different businesses. However, if you have a table at this kind of event, you need to make sure that the connection between your brand and the trade show is clear and makes sense. Otherwise no one will pay attention.

Why Use Event Marketing
Marketing at events puts you in a very unique position with your audience. It can associate your brand with concepts, other brands, and positive emotions in a way that other types of marketing simply can't achieve. These are just some of the reasons why events should be part of your marketing:
Events build relationships
There's nothing quite like engaging customers face-to-face in a non-sales situation. It humanizes your brand and lets your audience put faces to the brand they've heard about. It also gives you a chance to answer their questions directly and hear about their perceptions of your brand in person. This may help you tweak your marketing, or even your products and services, and lets the customer know that you care about listening to their needs and concerns.
Building relationships also means being able to generate leads directly at the event. Of course, you need a natural way to engage the customer for this purpose, making it make sense in the context of the event and where they're encountering you. At the very least, it should help you build up your database, so consider ways to quickly and easily collect information (like a tablet with e-forms), since they may want to move on to other parts of the event. You can make lead generation more engaging by including an incentive for giving you their information, such as discounts on products or services, or a chance to win a raffle or contest.
Events offer a qualified audience
This is largely true of trade shows and craft fairs — you need only consider an automotive business presence at an auto show, where the odds are higher that there will be attendees looking for new cars or auto services for their cars. That's because people attend these kinds of events specifically for the kind of things your business offers.
Events help with branding and awareness
We cannot emphasize enough the role events can play in how people perceive your business and the word-of-mouth it can generate. If it's a charity event, for example, people will view your brand positively as supporting a cause that's important to them. If it's a community event, people see your brand as being involved in the community and not just existing to make a sale. It can also affect other aspects of how they view your business, like if they view your brand as being young and hip or ultra professional and formal.
Events put you ahead of your competition
Just as a qualified audience is more likely of a trade show, more diverse events are more likely to only offer one spot to a particular kind of business. That is to say, you may be the only healthcare business or financial services at a particular event, so the level of competition present there will be very low and improve the odds of high engagement.
Event marketing is all about generating strong word-of-mouth, so you need to ensure that at events, you give your audience an experience to remember. While this is obviously limited to your budget, you should think outside the event schwag staples like t-shirts and pens (although depending on the event, a branded tote bag can absolutely be effective). If you're a chiropractor, for example, you can offer free massages or consultations at the event. If you're an auto dealership, you can showcase your cars and let customers test them out (if it suits the situation). Consider experiential marketing, proper, as Delta did at a TED Talk last year with its mock productivity lounge that let customers try their WiFi, in-seat power without buying a plane ticket.
Now that you understand why events should be part of your marketing, it's time to take a look at your budget and consider the events happening in your industry or in your area. This will help you develop a winning event marketing strategy that allows you to integrate your activities with your overall marketing strategy and strengthen your brand message and identity. Remember, you can always talk to your media partners about what event marketing would suit your business and your budget best.