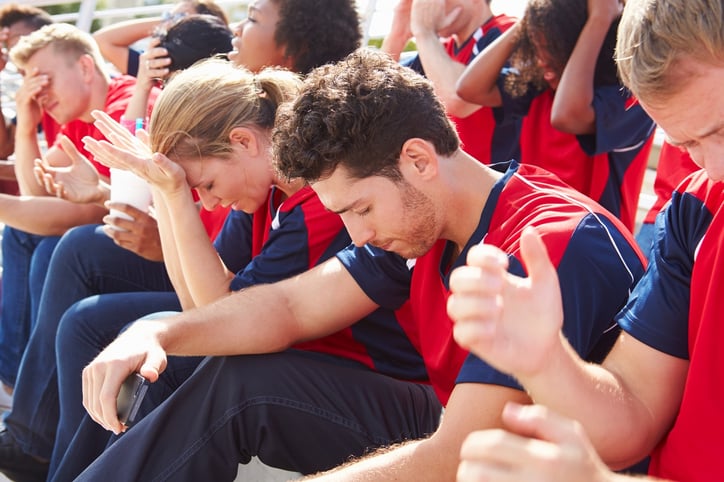 If there's one thing that binds a city, town, or community in America today, it's having a local sports team for everyone to get behind. Whether it's a pro team, like the St. Louis Cardinals, to a local college team like the Mizzou Tigers, people in the area often feel a special bond with "their" team.
This is precisely why businesses seek to tie their brand and marketing efforts in with the local sports teams, to get their name out to a wide audience and establish credibility within the market. Unfortunately, things don't always go as planned when companies, brands, or businesses utilize sports in their marketing.
Whether it's poor creative, or untimely advertising, many businesses don't realize the path to success in sports marketing. Calling the wrong play when utilizing sports in your marketing can - and should - be avoided at all costs.
Here are four sports marketing plays gone bad, and why you should be extremely careful not to make them.
Promos Don't Extend the Season
In the sports world, it's often asked, "What have you done for me lately?" Even hall of famers still need to produce to stay on the field, and the same can be said when utilizing sports in your marketing. One of the biggest mistakes that businesses make is using dated promos that don't extend the life of the sports team's season. It's great to run promos around specific big events, like a radio ad while the Cardinals are in the World Series, but keep in mind that you'll need to shelve that and rotate to another campaign once the season is over. As sports seasons change, so should your marketing, in order to be relevant and effective.
Creative Doesn't Match Fanbase
Tieing your business or brand to a sports team isn't enough to really engage your target audience. One of the poorest play calls businesses make is not matching the creative in their marketing to the fanbase of the team. The fanbase of the Mizzou Tigers, for example, spans generations from alumni to current students. They're highly educated and value tradition, so your marketing should reflect and resonate those themes. You'll want to take an integrated marketing approach, appealing to the appropriate fanbase on radio, print, and social media channels. You may want to find some influential Mizzou alumni or athletes on social media, for example, and encourage them to interact with your brand on social media. Also, think about advertising in local magazines that your target fanbase reads. You should also drive traffic to your website and social accounts with radio ads.
Creative Doesn't Connect with the Team
While it's important to focus on your business, you need to make sure the creative you use ties the team in enough. The bad play call some businesses make is not taking full advantage of the notoriety and marketing muscle that both the team and players bring to the table. Instead of running a radio ad simply saying you're a sponsor of the St. Louis Cardinals, try to get one of the players to voice a segment, or tie your campaign in with the cause marketing of a team. Having your creative connect with the team in the deepest way possible, like the Cardinals' "Doin it Right" school program, will gain you much more credibility and connection with the local community.
Limiting Promos to Gameday
Gameday promotions are a great way to build on the excitement of a local sporting event, as people are in a festive mood and are receptive to marketing messaging. However, limiting your promotions solely to gameday is a busted play call that many businesses make. If you run an NFL Gameday promotion, odds are that many people already have plans and won't be able to take advantage. People attend the game in person, watch at a friend's house, or take the time to visit family. Instead, try running a gameday promotion but spread it out over a period of time. If your restaurant offers an NFL Sunday buffet, for instance, try having some of those items on special on Saturday or Monday nights as well, so you can capture a broader audience with just one promo.
Like every successful coach, business owners and managers make a bad play call every now and then. By avoiding the pitfalls mentioned above, you'll avoid striking out when it comes to utilizing sports in your marketing.