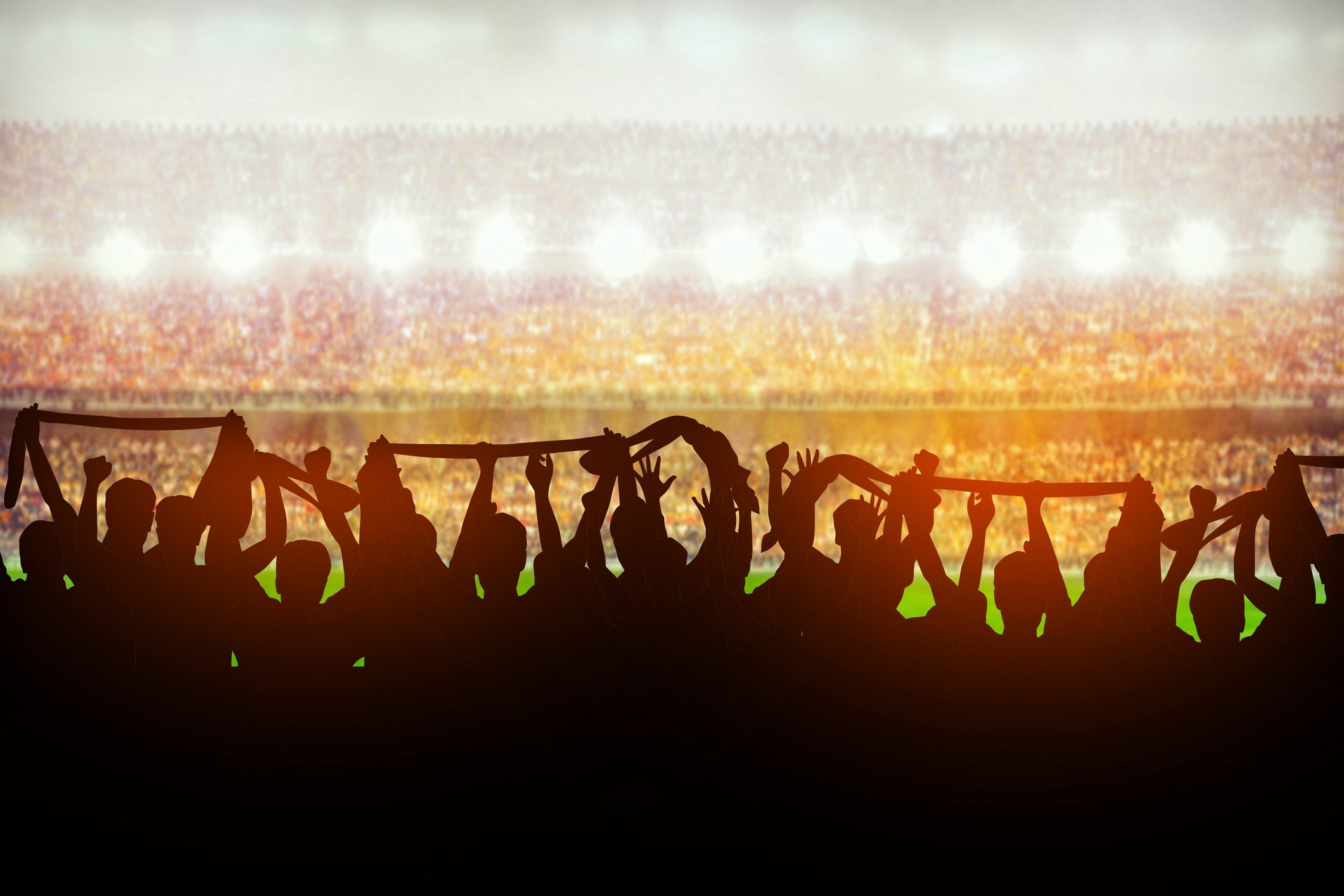 In 2016, the U.S. had the second largest share of sports fans in its population in the world, behind only China (via Statista). In two 2017 polls, ESPN and Scarborough ranked MLB as the second favorite sports league, behind the NFL, and professional baseball garnered 72 million ticket sales that same year. Given how intensely sports fans love their teams — like our own St. Louis Cardinals — it should be pretty clear that sports marketing is a tremendous opportunity for advertisers. In fact, now is the perfect time. Sports seasons are starting, warm weather is sending everyone outside to enjoy the fun, and sports fans are ready to be back in the midst of a roaring crowd.
3 Reasons Why Sports Fans Are a Desirable Marketing Audience
More than half of all Americans consider themselves sports fans. Although their level of passion can vary from cheering while listening to the radio to painting their face and making every game, there are a few qualities that all sports fans share.
1. Dedication
Fans are dedicated to their team (or teams) of choice. They care about the success of the team as a whole, as well as which players it can attract or lose. They attend, watch, or listen to games faithfully throughout the season. So even if they're not in the stands, they have the radio cranked up to hear their team take to the field. This isn't just about the pros, either, and loyalty runs deep.
2. Engagement
Sports fans are anything but passive — just talk to someone with a March Madness bracket or a favored team at the playoffs or Super Bowl. They have pre- and post-game rituals, regularly hold parties and other events surrounding a game (like the Tiger Tailgate for Mizzou), and closely follow the training and player trading over the off-season. There's no time limit on their involvement with the sport or team they love.
3. Connectedness
Talking about sports fans is like talking about one large community and a multitude of communities at once. Fans share their love of the sport with friends and family, and then they head online to share it with even more people through message boards and social media.
The impact of these qualities can be transferred to your brand, thanks to sports marketing. By aligning your brand with a sport and a team, you can tap into the loyalty fans have for that team. Sports marketing can also serve to lift brand awareness, not only thanks to exposure, but by immediately providing fans with a reason to care about your company.
6 Methods for Reaching Sports Fans
Of course, it's important to make choices that make sense for your business. Fortunately, there are numerous opportunities to consider.
1. Sponsoring Game-Related Events
Game time events are always looking for partners that can help them make amazing experiences for fans. Be it a team's theme night, their half-time event, or a pre-game tailgate party, you can support fans and the way they're able to have a fun time. In fact, we are currently offering opportunities for brands to sponsor Tiger Tailgate.
2. Sponsoring a Piece of the Game Day Experience
You don't have to be involved with a specific event to support fans looking for a good time. You can sponsor something as simple as a snackbar or as limited yet attention grabbing as a giveaway. It adds value to fans' game day experience.
3. Supporting High School Sports Teams
We mentioned that devotion isn't limited to pro teams, and it isn't limited to college either. High school teams are a key part of student experiences, and as such, it involves the whole family and community. By sponsoring a team's entire season, you enable kids to gain valuable experience and earn the trust and approval of their parents.
4. Tapping into Partnerships
You aren't limited to supporting games and adding value to attending fans. You can also form strategic partnerships with star players for an endorsement to use in your overall radio campaign. Fans see their favorite players as trustworthy, not unlike the way they trust their favorite radio personalities. Taking advantage of this influence can bolster awareness and more.
5. Adding Digital Fun to the Mix
In addition to directly associating your brand with a team or player, you can provide further engagement for fans through a number of digital promotions, including contests. This can do double duty and generate leads while giving fans something fun to do. Quizzes can challenge their sports trivia knowledge while driving them to share it with their circle in friendly competition. (You can learn more about our digital promotions here.)
6. Advertising on Sports Radio
You already know how powerful radio can be, and sports radio is a direct line to multiple generations of fans who tune in to hear about all the latest scores, not to mention pre- and post-game coverage. This is amplified by the fact that radio listeners also pay close attention to the advice and recommendations from their favorite radio personalities. Ads that run on these stations and during key shows will lift awareness and help build meaningful frequency.
At Zimmer Radio, we can connect you to a family of stations, including KTGR 105.1 FM, an ESPN affiliate that covers Mizzou Tiger Sports and local high school sports, as well as Cardinals games. It's the only 24-hour sports radio station in mid-Missouri. What's more, several of our other stations cover Cardinals and Mizzou games, including KAT Country 94.3 FM, 93.9 The Eagle, and 96.7 KCMQ Classic Rock.
As the sports season heats up, don't miss out on a perfect opportunity to reach your audience. Sports fans are a majority, and if you want your brand to be where they are and associated with what they care about, sports marketing needs to be part of your strategy. Remember, there's already an opportunity ready for you — sponsoring Tiger Tailgate. Get in touch with us today to learn more.