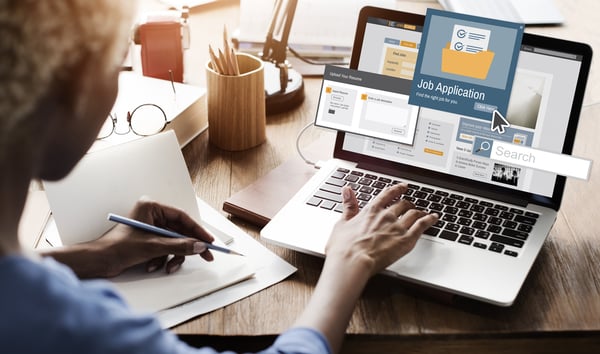 As media has evolved, gone are the days of checking the "Help Wanted" ads in local newspapers. With the help of Google and job boards like Indeed, prospective employees can find open positions in their industry in any location with just a few clicks. With this increased access to jobs around the world at any time, employers need to get more creative than a simple job posting when it comes to recruiting top talent. This is where social media recruitment comes into play.
Social media recruitment is the process of recruiting candidates through social media platforms and other websites, such as job boards and blogs. Typically, social media recruitment targets both active and passive candidates through a combination of boosted and organic advertising as well as employee engagement by utilizing platforms such as Facebook, Twitter and LinkedIn. Together these different elements form a recruitment strategy that can bolster prospect engagement and drastically increase employer visibility in the crowded job market. Below, we share three tips for effective social media recruiting that you can start utilizing today!
1. Develop Online Company Reputation
Many companies rely on audience word of mouth or referrals for business, but in the digital age of online ratings and customer reviews, a business's reputation extends beyond their physical location. Prospective employees have plenty of resources for researching companies before pursuing a new career: websites such as Glassdoor and LinkedIn have created an additional level of transparency that gives employees a voice in respect to their professional experience with their employer. This is a great opportunity to request current employees to leave feedback about their experience online. This creates a foundation for your brand to generate more interactions from prospective employees through increased visibility. By developing your online reputation, you also remove the ambiguity that typically comes with the interview process, attracting more qualified candidates and increasing candidate retention.
2. Share Engaging Content
As Facebook has continued to grow and platforms such as Twitter and Instagram have become commonplace for companies, it is no longer enough to have a professional social media account. Professional social media accounts are a simple and effective method for showcasing your team and company culture. By updating Facebook and Instagram accounts with pictures from the last company barbecue or employee appreciation award, you are keeping your audience engaged. This includes prospective employees, who are more likely to see and interact with social media content that comes from a source they trust. With job listings being one of the more recent features added to Facebook, this increased engagement gives employers a new avenue for posting jobs and netting passive candidates who may not be actively searching for new opportunities on LinkedIn or Indeed.
3. Tailor Your Message
While there are several social media platforms that are effective for developing your online recruitment, not all are created equal. Tailoring your message to each platform is essential in order to engage the right candidates and ensure that your message is as effective as possible. An informal post about current entry level openings that drives traffic to your company website is perfect for Facebook, whereas LinkedIn is a better platform for long form posts and senior level openings. While the most effective social media platforms vary depending on industry and the type of opportunities you are promoting, the best strategy always involves a blend of social media to reach every demographic within your target audience. Consider setting time aside daily to post on your social media platforms about current openings and opportunities with a call to action directing interested candidates to your website or employment page. By making it a priority, you can ensure your message is consistent and on brand for each platform.
Interested in learning more about how you can become a leader in your industry? Subscribe to the Zimmer Communications blog below!