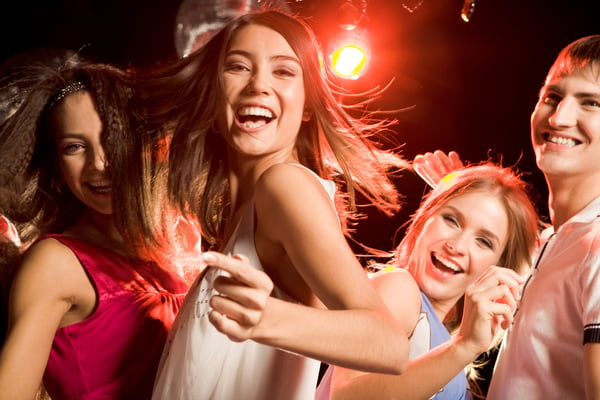 Top-40 music continues to vibe with not just the young in age, but also the young at heart. Listeners to the format are like the music they adore - active, trendy, vibrant, youthful and engaged. They also happen to have money...and a desire to spend it. These young yuppies are buying everything from food and clothes to homes and cars - a far cry from the stereotypical teenage listener trying to finish homework so he/she can play video games. If you haven't considered Top-40 as an audience worthy of your business, you're missing out. Here's why.

History of Contemporary Hit Radio (CHR) and/or Top-40 Format
Todd Storz created this format at his Omaha, Nebraska radio station KOWH in the early 1950s according to producer Richard Fatherley. He created the music line-up by tracking how many times a record was played on jukeboxes, creating his list for the weekly broadcast. This would create a list of the most popular songs. In other words, within the music industry as a whole, the "top-40" was the best of the best, literally the 40 most-listened-to songs within that specific genre. The format was extremely popular, leading Storz and his father Robert to team up and create Storz Broadcasting Company, which they then used to acquire other radio stations to broadcast the Top-40 format.
Top Reasons Why Top-40 Radio Remains on Top
Top-40, also called contemporary hit radio (CHR) is a wildly effective way to reach a wide range of listeners, and we're not just talking about teens. Across the country, people still like to listen to their "favorites" list. Top-40 Radio makes that possible.
Target Audience:

Top-40 serves a key demographic of females age 18-34. This group is into kid planning, social and digital mediums, fashion, health and medications, food, tanning, fitness and beauty. Therefore, this demographic is a powerful one to reach and they love their Top-40 music. Radio is the easiest and most efficient way to communicate to them.

Age of Acquisition:

Young yuppies are huge fans of Top-40 and are just breaking out on their own in life. They are post-college and making their first MAJOR purchases like apartments, houses, insurance, appliances, cars, etc. This is the crucial time in life in which they build long-term brand loyalty, so now's the time to create a lifelong customer. Lock them in now, before they have time to move to your competitor.

It's Positive & Upbeat:

Right now, everyone needs and wants positivity. They want uplifting, cheerful music that makes you dance around the house or office..which is exactly what Top-40 does.

It's For Everyone:

Top-40 simply refers to the songs that are most popular right now. That means it can be hip hop, rap, country, rock or anything and everything in between. You get the most ears because you are playing the widest range of genres with the Top-40 format
A Local Look at Y107
The following are some reasons you will want to tap into the immense audience enjoyed by Missouri's Top-40 favorite - Y107:
REACH - Y107 is 100K Watts:

This means you can reach more in mid-Missouri than any other station. For example, you can reach 30 minutes outside STL to 30 minutes outside KC and 30 minutes outside Springfield. Y107 enjoys solid listeners from Lebanon, Ft. Leonard Wood, Rolla, Sedalia, Marshall and all points in between.

LOCAL PERSONALITIES: 3 BIG reasons - COSMO & Lauren and Carson: Local announcers are celebrities in mid-Missouri.

Missouri top-40 listeners have been waking up to Cosmo for nearly 20 years - he, Lauren and Carson are familiar, trusted, award-winning and recognized for their commitment to listeners, a passion for great music and dedication to community service.

Nationally, Statewide & Locally Recognized: Y107 has been recognized nationally and recently won Missouri Broadcaster Awards for Tornado Relief Radiothon, CMN Radiothon and for providing meaningful, life-changing opportunities for listeners. It has also been recognized by the National Association of Broadcasting with the 2018 Small Market Service to Community Award. This is awarded each year to only one station across the nation.
Broadcaster of the Year:

Y107's afternoon drive announcer, Carson, won Missouri Broadcaster of the Year for Medium Markets this year.

Best Top-40 Station: Y107 was recognized as one of the best top-40 stations nationwide and won the National Association of Broadcasters Marconi Award for top-40 station of the year in 2016. They were a runner-up in 2018 and 2019. FYI, that's like winning an Oscar for a radio station.
More Than Music: The featured videos on Y107 offer a wide range of opportunities to tie your brand into social media with their video antics. Cosmo and the team are experts at leveraging social media like Facebook, Twitter, Instagram, Youtube and Snapchat to engage listeners across the board in ways that get them listening, laughing and enjoying the station.
Consider all the information above and you too will recognize the benefits of embracing Top-40 format. Sing along, dance along and laugh along...all the way to greater advertising results. Contact us today to learn more about Top-40 advertising and Y107.