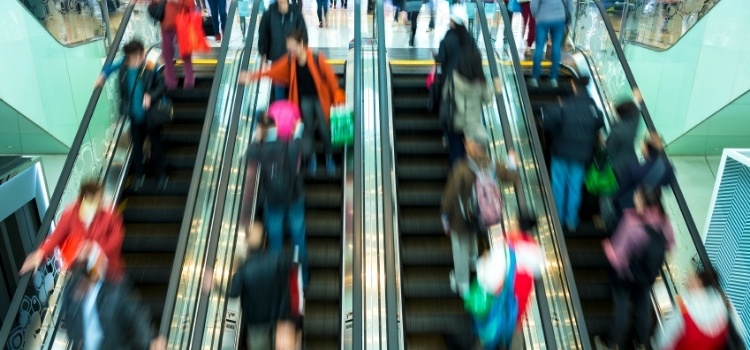 While historically Black Friday has been one of the largest shopping days of the year, it has now converged with Thanksgiving Day, lasting well into the weekend on Small Business Saturday, and spilling over into Cyber Monday. Black Friday weekend pulled in $50.9 billion dollars in 2014. Large retailers revel in these large shopping days, often making it hard for small businesses to compete. Advertising prices are often inflated during the holiday shopping season, and big businesses can usually offer deeper discounts on a larger marketing budget. But does that mean you shouldn't throw your hat in the ring and take advantage of Black Friday, Small Business Saturday, and Cyber Monday? Absolutely not!
Black Friday
Black Friday, one of the busiest shopping days of the year and a sales staple for larger brands, traditionally falls on the day after Thanksgiving, but in recent years has started on Thanksgiving Day. Since the competition with big box companies may seem fierce, should your business participate in Black Friday? Definitely! Your small business is unique and offers an experience, not just a service or product. That sets you apart from the start. Your bottom line may not be able to handle deep discounts, but with bundle offers, freebies, later opening hours, gift cards, unique products and services, and an extended return period, you're sure to benefit from one of the largest shopping days of the year.
Black Friday may be perfect for businesses that offer unique products and services that don't naturally have to compete with big retailers such as: auto repair, landscaping, home remodeling, photography, financial advising, lawyers, medical providers, plumbing, local one-of-a kind restaurants, travel agencies, etc. Consider giving companion offers to encourage additional transactions.
While Black Friday may not be the big money-maker for your small business, you can still get your name out there and use it as a "soft" sale for Small Business Saturday, which follows Black Friday. Use this day to develop meaningful and lasting relationships with your customers, taking the sales beyond Black Friday to create a healthy customer life cycle. This will add overall value to your business year-round.
Small Business Saturday
Small Business Saturday was created by American Express in 2010 to help small businesses gain new customers; support local small businesses; create jobs and boost local economies; and preserve neighborhoods. Falling on the day after Black Friday, Small Business Saturday has become a nationwide celebration of the uniqueness of small businesses and the camaraderie of local neighborhoods. It has become one of the busiest shopping days of the year. Sales increase each year as people are supporting small businesses more and more. In 2014 alone, 88 million customers participated in "Shopping Small", an increase of 14.9% from 2013, with close to $6 billion dollars being spent. Awareness of small businesses' impact on local economies and building stronger communities has increased greatly since 2010. For Small Business Saturday, Neighborhood Champions — organizations, groups, local communities, and government offices — create events to celebrate small businesses and increase awareness of their importance to local and national communities and economies. 1,450 Neighborhood Champions rallied their communities in 2014.
Remember, consumers are still looking to get a good deal so think about offering bundle discounts or lower prices that make sense for your business. Can you offer a free tire rotation with an oil change? Or a free personal tax return filing with the filing of a small business tax return? Or a free estimate for a service you provide? And remember that as a small business you have a great advantage over larger ones — offering your customers a wonderful shopping or service experience. Shopping behavior has shown that customers care more about their shopping experiences than in previous years. Consider offering warm drinks, snacks, highlighting community events, and engaging each customer personally. They most likely won't get that same treatment at a big box store.
Five Ideas to Get You Started:
Host an event

Create a special offer

Send out anticipatory emails

Convert! Convert! Convert!

Join other local businesses

Consider holding Small Business Saturday the weekend before or after Black Friday weekend.

Beef up your online presence
Cyber Monday
Cyber Monday is just that — the Monday after Thanksgiving that focuses on online shopping. Online sales on Cyber Monday soared to more than $2 billion in 2014, with more than 124 million customers participating. This isn't surprising with the rise of mobile use. Customers often look for deep discounts and wait until Cyber Monday to shop to see if they can score better deals than Black Friday. If your business has a strong online presence with significant traffic then Cyber Monday may be right for you. There will be fierce competition with big retailers, but your business can still stand out.
Creating an email marketing campaign can significantly help your efforts on Cyber Monday. In 2014, 36.8% of Cyber Monday shoppers kept track of retailers' promotional emails. More shoppers are shopping via mobile devices. If you've considered going mobile with your website, now is the best time to do it! Surveys are showing that more people are shopping online on Cyber Monday than ever before. Start your campaigns early and consider going mobile!
Small businesses have a great advantage over larger retailers in that they can offer a stress-free shopping environment and a personal and warm experience that larger retailers can't. Small businesses can also leverage their community presence by appealing to local customers who may not want to brave the Thanksgiving shopping weekend frenzy of long lines, grumpy customers, and decreased customer service. A relaxed atmosphere and more personalized attention by employees places small businesses in a position of competition all their own and leaves an indelible mark in the minds of holiday shoppers.