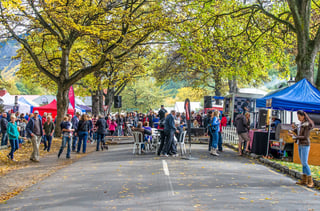 There's something about hearing about a special event over the radio that catches our attention. Whether it's a sporting event, major concert, or state fair, we're drawn in to learn more about what kind of fun and excitement there is to be had. The question is, how can local businesses use this to their advantage? Sponsoring events and working with radio stations can play a major role in generating buzz around your business, and getting to know your customer base one-on-one.
But you'll need to have a strategy and take a few things into account in order to successfully orchestrate a radio advertising campaign with your live event presence. Here are the cornerstones regarding how to elevate your event sponsorships by leveraging radio advertising — the right way.
Try Hosting Contests
Radio is a great medium for announcing promotions and contests to a wide audience. This can include any number of things, including giveaways, tickets or promotional discounts. You can host these contests on-air, via social media or even at the physical location of your business. Ideally, you'd have an integrated approach to all of these channels. For example, you could use your radio advertising to drive traffic back to your social media channels, or to your website where they'd enter their information into a form in order to participate in the promotion. You might also mention on-air something like "We're giving away one pair of tickets to a live event, just swing by our location to enter!"
Utilize Live Remotes
These direct broadcasts, or station appearances are a great way to get both radio stations and their personalities involved with your business. Remotes create a lot of buzz and excitement around the local area, and ideally will attract large crowds of diverse individuals (if your offer is strong enough). Think of live broadcasts as a party that you're hosting, which just happens to have a marketing function. You'll then just need radio ads to promote the appearance, as these are basically the invitations to the party. The key to getting a return on your investment for live broadcasts is making sure you have a dynamite offer. It needs to be so compelling that it will make someone stop what they're doing and drive all the way across town to get to your business because what's happening is something they feel they can't miss out on.
Create Brand Awareness Via Event Advertising
One of the best things about radio is that you're able to raise brand awareness to a large audience at once. If you're sponsoring a radio station-specific event, you'll get the added benefit of the station itself promoting the event — and potentially your business/brand — on air. These are ads that won't come out of your budget, and the station will have skin in the game in terms of making the event successful. You'll want to inquire about being mentioned as a presenting sponsor whenever the station promotes the event on air. For example, the station might advertise "The Annual WXYZ Radio Station Event, Presented by Your Business." Take note that being a presenting sponsor of any event can be expensive but the exposure will absolutely be worth it.
Create Awareness Around Your Attendance
Just the fact that your business will be present at a certain event is an opportunity to market your business and raise brand awareness. People will be able to see that you're active in the local community and willing to get out and engage on a personal basis. Radio advertising is a great way to let people know about the event, why you're going to be there, and how it relates to your business. Overall you can use radio to keep people in the know, inform them on how to find you at the event, and why the need to stop by.
Drive Traffic Back to Social Channels
Before and after the event, you'll want people to stay engaged with you digitally on some level. You want to keep them informed, continue to nurture potential leads, and move them further through the sales funnel. Using radio spots to drive traffic back to your website or social channels is a great way to do this, in addition to keeping them in the loop regarding future events. For example, they can engage with content on your business' Facebook and Twitter pages, or at the very least follow those accounts. They'll also be able to learn more about what exactly you have going on at the event via those social channels or your website.

By now it should be pretty clear why events should be a part of your marketing strategy. They help build relationships, create brand awareness and generate qualified leads for whatever business you're in. By leveraging radio to promote your event presence and drive digital traffic, you'll be able to position your business as a leading brand in the community.