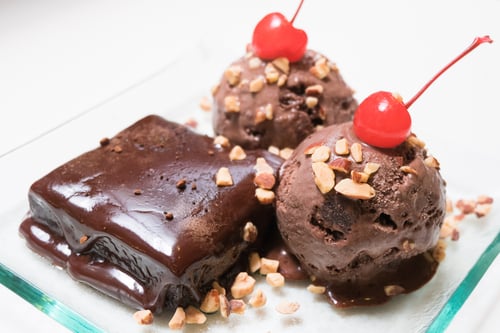 It's America's most popular ice cream flavor and gives your common cup of coffee a tasty punch. Vanilla. Somewhere you won't find this flavor? Strong marketing campaigns.
If you walked into an ice cream shop with 50 different flavors, would vanilla be the first one you asked for? Probably not, because it's not as flashy as Double Brownie Chewy Chocolate Chip. (This sounds amazing, by the way.)
Here are a few ways to help you be bold in the World of Branding:
Create an advertising message that is hard to ignore.
GEICO has done a masterful job of making a boring industry fun. From cavemen to a gecko, the characters used in GEICO's marketing efforts are always memorable and unpredictable.
The more fun you're willing to have with your brand, the better. Keep people on their toes and they'll not only talk about your advertising, they'll start looking forward to what you come up with next!
Emotionally engage.
People read, see and hear hundreds of messages every day, so you've got to make sure that the messages you send out capture an audience quickly.
Let's say you start a radio ad with ominous music and a serious narrator talking about someone 'facing the music'. I'll want to know who is 'facing the music', why they're facing it, and what they can do to avoid that situation all together. Give someone a reason to emotionally engage with your ad!
Stand behind a powerful offer or guarantee.
Guarantees are a great way to reduce the perceived risk of buying your product or service. Eliminating the hesitation for making a purchase can lead to more sales.
For example, Zappos is famous for their year-long return policy. It reduces the barriers to buy their shoes because you can take an entire year to decide whether you want to keep the shoes. Not to mention, shipping is free both ways.
Netflix offers a free, 30-day trial. Why? Because at the end of the trial, they know you won't want to stop binge watching 'Ozark'. Be bold by giving your potential customers a strong offer or guarantee and you'll reap the rewards.
You can start using these tactics right now in your marketing, but first try this:
Go out and order a cup or a cone of your favorite ice cream. If it's vanilla, that's totally fine. But don't be afraid to come out of your comfort zone and be bold. You'll never know how strong your brand could be if you don't order the Double Brownie Chewy Chocolate Chip ever so often! For more tips to transform your advertising into a strong branding message, download our newest ebook "12 Ways To Improve Your Advertising Creative" with the link below: