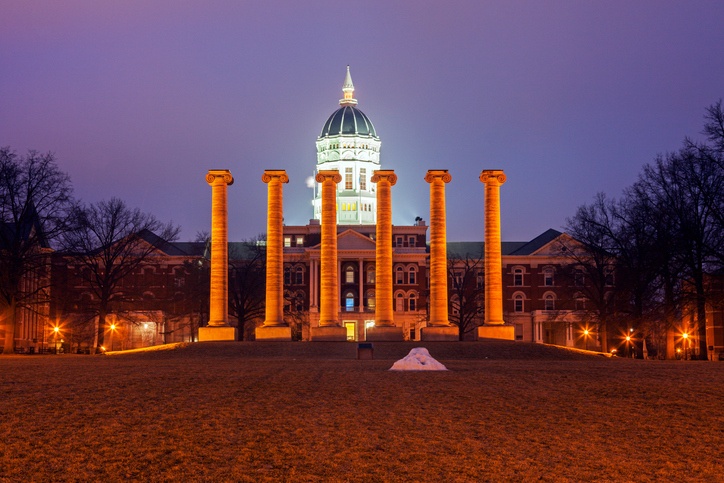 With easy access to both St. Louis and Kansas City, Columbia is a city that prides itself on offering big-city opportunities while maintaining its small-town friendliness. It's also a fast-growing city, thanks to a host of benefits, and it's important to remember that growth means changing demographics for Columbia, Missouri. Small business marketing should evolve to maintain relevance to the moving market and tap into new customers and opportunities year over year.
Why the Market in Columbia Changes
Columbia has much to offer that draws in new residents. It's central to Missouri, which puts the entire state in reach, but more specifically, it's only a half hour's drive from the capitol, Jefferson City, and roughly two hours outside St. Louis and Kansas City. Nature lovers appreciate the proximity to the Ozarks, and families of all ages will appreciate a host of historic towns. Of course, Mizzou football is a huge draw for the entire region.
Speaking of colleges, the number of colleges and universities in and around Columbia also contribute to the shifting market landscape. Students come and go for each semester and holiday, creating a lot of churn. The two largest schools are located in the city: University of Missouri - Columbia, and Columbia College. They represent a full time enrollment population of about 29,600 and 14,000 students, respectively. Nine additional colleges are within an hour's drive away, along with three trade and career schools. Along with the shifting student population, these universities, colleges, and trade schools bring in faculty and staff regularly.
Furthermore, the strong economy is appealing to new residents. Boone County's economic share of the state economy grew between .2% and .6% in the last decade, and is the seventh highest share in the state at 2.99%. It's also among the top counties for employment share (3.27% as of 2015) and personal income share (2.83% as of 2014). The per capita income for 2014 was more than $41,400 (about $4000 higher than the Central region), and the 2016 unemployment rate is only 2.7% (a whole point lower than the entire Central region). Health care services, hospitals, manufacturing, construction, and specialty trade contracting are all top performers and high growth industries. Some of the top occupations by projected growth include: diagnostic medical sonographers, nursing instructors, occupational therapists, rock splitters for quarries, and landscape architects for major facilities and subdivisions.
All of these factors keep the population shifting over time, creating a moving market for Columbia, Missouri, year-over year.
New Residents Means New Customers…
Changing populations means businesses have the opportunity to grow and adapt their customer base. Here's a snapshot of demographics in Columbia and Boone County:
Boone County had the largest

population percentage

increase (5%) in Missouri as of 2013.

Specifically, the Mid-Missouri Regional Planning Commission saw the fourth largest population increase (+9,170).

The current

projected increase

through 2030 is +50.8% (roughly between 20,000 and 75,000 added).

The total population percentage

increase of minorities

as of 2010 was 46.8%.

Specifically,

Blacks

by 30.6%,

Hispanics

by 102.9%,

First Nation

by 10.1%, and

Asian

by 53%.

Boone County is

getting younger

as well. As of 2013, only 15% to 20% of the population was Baby Boomers while 30% to 40% was Millennials, making it one of the 8 counties to see a disparity of 10% or more.

Ironically the

percentage growth

is inverted: Millennials increased only 1.87% between 2013 and 2014, while Boomers increased 5.09%. However the actual count increase is quite close: 849 and 877 respectively.

Columbia residents

tend to be educated:

92% have at least a high school diploma, while nearly 55% have a bachelor's degree.

They also tend to be single: 51.8% have never married, while 35.4% are currently married.
…Which Means Fresh Marketing
With these new customers in mind, there's a few things that you should be considering as you evaluate your marketing strategy. Are you planning around these changes and taking new customers into account? By understanding not only the growth in residency but its fluctuations (e.g., from college students), you can develop a quarterly or annual marketing calendar that best capitalizes on the new and changing customer base. Similarly, you can plan and target with specific creative to personalize your message and reach your target effectively. Most importantly, it allows you to take advantage of your resources at the right time in the right way. You won't waste your time or your advertising spend by marketing to the wrong people or on the wrong channels.
It's also worth mentioning that you need to keep your business databases updated. After all, a growing city represents a large amount of churn. Not only do you need to ensure that you're gathering new customer information, you should ensure that the information you have for current customers remains up-to-date. You want to have a process in place to regularly remove customers that are no longer in the area.
As you can see, the Columbia, Missouri, market audience is always evolving as this exciting city continues to grow. Stay on top of shifting demographics with regular research to ensure your marketing remains relevant to the moving market in Columbia, Missouri year-over-year.