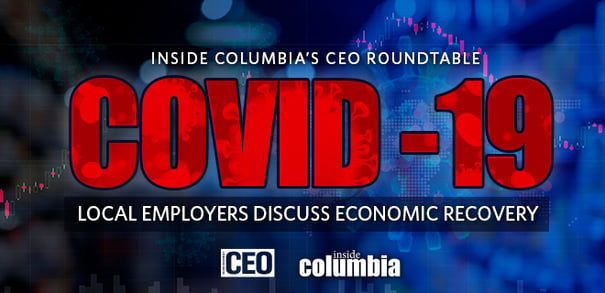 Inside Columbia Magazine recently held an online CEO Roundtable with 38 local business owners and government leaders including City Manager John Glascock, Mayor Brian Treece and Boone County Public Health Department Director Stephanie Browning to discuss a way forward for central-Missouri's economy. It's no secret that COVID-19 has disrupted more than just our daily routines, as many business owners are left dealing with lost revenue and uncertainty on what this means for the future of their businesses and employees. In all, it was a healthy discussion with respect given to both the need to proceed with caution and the desire to get back to work. Here are a few quotes from that conversation:
"Close to 1,000 employees have been furloughed. So, there's not much middle ground for us, we're all or none."
"In Columbia over the last couple of weeks, our bank has done 717 loans for $89 million that are going into the hands of our local businesses."
"We can't just flip on the light switch and come back to life, if we do it would be catastrophic for this community."
"Begin testing a waiver environment with maybe six to 12 businesses, where the process is created by the city or county, whereby a small business could subscribe to a best-practice system and submit a waiver to be able to open up based on those practices."
"We've never felt more loved by the Columbia community than we have in the past few weeks. You really appreciate Columbians rallying around local businesses."
The full online article details the conversation in more depth, but the main areas of discussion included how to help non-essential businesses, federal funding projects and the local impact of them, long-term recovery and the when/how plan for Columbia to return to the bustling city we know and love.
While there are pros and cons to potential solutions to the pandemic's economic impacts, one thing that Columbia business leaders and government officials agree on is the strength of our community. Together, Columbians have and are continuing to step up to help each other in ways we didn't think possible, proving once again that Columbia is — and will always be — a place we're proud to call home.
To read the article in its entirety, click on the link below: