What is BrandsFormation?
BrandsFormation® is a simple, four step proven system that brands businesses and helps local businesses like yours.
In their corner, the big guys have teams of marketing professionals along with large budgets for research and advertising. Finally, the small business owner has someone in their corner, Chuck Mefford and the Zimmer Radio and Marketing Group. In the Brandsformation seminar, Chuck shares real branding success stories as well his system that any good business can implement, and brand their business just like the big guys.
We'll work with you to tell your business's story in a way that will resonate with your customers so that you can connect with them on a deeper level. You'll love what BrandsFormation® can do to accelerate the growth of your company.
The BrandsFormation Seminar
Each year, we hold hold a BrandsFormation seminar to help improve your business potential. In this seminar you'll learn:
Use the 3 M's of Marketing - Message/Media/Measures
Build a 3-5 year ROI Marketing Plan
Cut through all the NOISE - Create messages with storytelling that work on any media
Choose the right media to get results

The first 100 business owners will receive a copy of Chuck's newest book!



What is a BMW?
We facilitate Brand Marketing Workshops (aka: Brandsformation Workshop or BMW) for business owners who are qualified and approved by Zimmer in the Mid-Missouri market to help them determine the best marketing plan and creative needed to achieve results.
Our Brand Marketing Workshop might be right for you if:
You need help developing an overall strategy for your business (finding what sets you apart from your competition and telling your story)
You need help developing creative (for any media) so that it is a well thought out campaign for the year vs. an ad you throw together each month
Your current marketing efforts aren't getting you the results you need and you could benefit from an outside analysis of your current marketing along with ideas for the future to make sure you are dominating enough to get a ROI
Beyond that, you can expect to learn:
How to develop a campaign vs. just having an ad schedule (bricks & mortar)
Best practices for your marketing schedules (consistency & frequency)
How to determine goals and objectives so you can measure what works
Sign up for a BMW!
Fill out the form below and we will be in touch with you soon!
Get the First Chapter of Brandsformation!
Download now for free using the form below.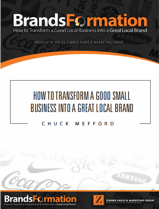 The first chapter of BrandsFormation helps to get your feet wet in the first steps of branding your business on the radio. We at Zimmer have used the BrandsFormation process for years and have proven success by using it with our clients. You will learn how to create a strategy, a strategy based message, how to be consistent, and how to dominate frequency.
Fill out the form below to get your free copy of the chapter of this book and get ready to be excited for taking your business to that next level.