There's a lot more to an effective blog site than simply writing and posting articles every now and again. Blogging is important, but if you're writing with no real organized structure for generating ROI on your blog, it is a wasted opportunity. For your blog site to be a lead generating machine, it takes some planning and structure. Keyword optimized topics, campaigns, CTAs, attribution and even the frequency of the posting must all be planned and scheduled in order for a blog to accomplish the goals you set for it. Two simple organizational tools can make all the difference.
They are the Content Calendar and the Content List: two super simple tools for which you don't need to download templates. They're easy to create and customize on your own and only require a basic working knowledge of Google Drive and Google Sheets (an online version of Microsoft Excel). Perfect for keeping your blog posts organized and in one place, they'll increase the effectiveness of your posting, keep your content writers on task, focus your blogging on specific goals and give the rest of your company a place to access needed information for their own use. So let's explore them each:
1. The Content Calendar
The Content Calendar is the single place where you can keep track of every blog post from the past and keep a progressive planner for the future. Everyone with access, from your CEO to your Marketing Department, your Social Media Manager and even your Sales Team, can jump in and see what's been posted and what's coming up. It's especially beneficial for your content writers as they juggle multiple tasks in addition to blogs. Consistent and regular posts are a key to success, and this tool helps manage production so that topics are relevant and completed on time.
As you work your content strategy, simply enter titles for upcoming blogs and a date for the blog to be published. Then as the topics are approved, written, edited, approved and posted - simply change the color of each blog post to correspond to its place in the development process. As the rest of the information is determined, fill it in as well. You may have multiple authors, different campaigns happening and multiple CTAs to use. This Content Calendar can easily be modified to track multiple blog sites, which blogs have video and even premium content publishing.
Here are what we suggest as the basic starting point for items to log regularly:
Approval process - a system of color coding where a blog is at in the production process.
Publish Date - the date the blog is scheduled to post.
Title - the title of the blog.
Attribution (Author) - may be one or multiple writers depending on your company.
Campaign - Campaigns are focused marketing efforts around a consistent theme. Typically campaigns include blogs, ebooks and social posts all on the same topic.
CTA - You should have multiple calls-to-action graphics in your tool belt at all times. The one you select will depend on the blog topic and/or the campaign.
Tag/Category - This keeps your blog post organized and searchable. It connects to the keyword strategy you are using.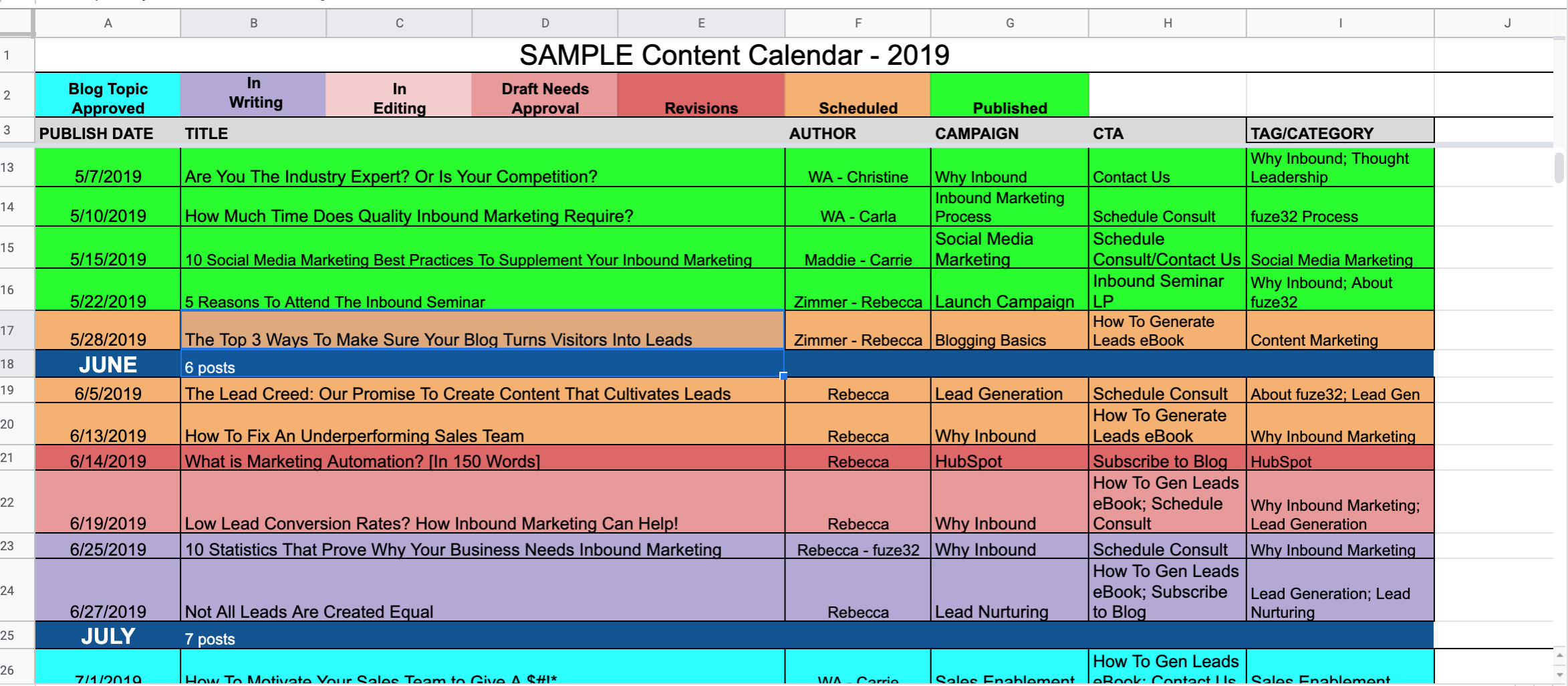 2. The Content List
A Content List is designed to be a quick resource if you're looking for a blog post to link to in other marketing material or want to find older content to freshen and republish. We suggest using Google Sheets so that it can be easily accessed by your sales and customer service teams. The best use of your content is to use it...a lot! Salespeople will want to use this list to find an appropriate blog to send to a prospect or customer. Marketing will likely link back to prior blogs or embed blogs in landing pages. Customer service will find it helpful to share links with customers, especially if the content has solutions that the customer would find beneficial. With a Content List, here are the items we suggest you keep in your log:
Date - log the date that the blog was published.
Title - log the title of the blog as it was published.
Link - add the hyperlink to the blog post.
Categories - create category tabs so that your content stays organized and easy to find. These categories are in-house topics that may or may not be related to campaigns. They are for internal use and should be helpful to internal teams in sales, marketing or customer service as they search for blogs.
Designate one person who is charged with updating the content list each week. Then, make sure that everyone has the link to the Content List, to be able to get in and look through it at any time. When someone wants to send a blog link, all they need to do is copy/paste the link into an email or embed it into a landing page.

Seems simple, but organization is everything when you manage blog content...especially if you are hoping to move the needle with specific keywords and lead generation. As additional tools, we suggest creating a Google Doc for each post, that way you can invite everyone who has to write, review and approve content. Changes are saved easily and kept in one place. Lastly, we suggest a project management software like Basecamp or Trello for communication. There can be a ton of little moving parts and pieces to keep track of while blogging...and if you're not organized, it's easy to make mistakes. Having the right tools will keep things on track and help maintain your sanity. Happy blogging!